Event details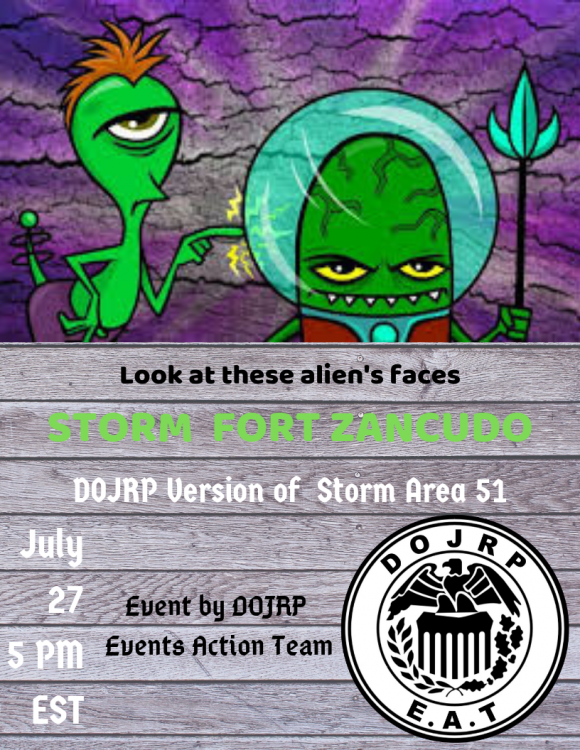 The Events Action Team Presents:
Storm Fort Zancudo
Have you ever wondered what secrets the government might be hiding in Fort Zancudo? UFOs? Aliens? Top military technology? This is your chance to find out.
Everyone is able to participate. Civs will have the opportunity to storm the fort, LEO officers will be stations throughout to protect the fort. We will also have LSFD Station 4 staffed in the event of injury to participants. Even dispatchers can attend to help coordinate the LEO and fire units. You may attend as either your primary department or reserve.
Please sign up using the link here:
https://docs.google.com/forms/d/1wlpSxkcTsWizyWAl9DR-2BwpLV5XjPGx9SDvGnwf0Ik/edit
Event will take place in a servers 3 and 4-watch announcements and monitor the calendar event for updates. Rules and assignments will be gone over prior to event beginning. Lets get those aliens!
See the attached document for the rules and further explanation of the event:
https://drive.google.com/open?id=1GsezpQBkTtVSlrAJRRv4WjnuAYiLM_EcO1H12FssUwY
Rules are subject to change prior to beginning of event and will be gone over prior to starting the event. Any questions or concerns can be directed towards the EAT COC.